Several types of intraocular lenses (IOLs) can be used during cataract surgery, including monofocal, multifocal, and toric lenses. The best type of IOL for an individual patient depends on their specific visual needs and preferences, your budget, the selection of an eye surgeon, and the level of eye hospital that you choose for your surgery.
In India, some of the best cataract interocular lens options include:
Toric IOLs: These lenses are used for correcting astigmatism.
Multifocal IOLs: These lenses allow for distance and near vision, reducing the need for glasses.
EDOF IOLs: Extended depth of focus IOLs, which provide a more comprehensive range of intermediate and near vision.
Symfony IOLs: These are EDOF IOLs that are designed to reduce visual disturbances and improve visual acuity.

In India, the cost of cataract surgery can vary depending on the type of intraocular lens (IOL) used.
The cost of monofocal IOLs, which provide clear vision at one distance (usually far), ranges from around 20,000 to 30,000 INR. Multifocal IOLs provide clear vision at multiple distances and cost between 40,000 to 80,000 INR. Toric IOLs, which correct astigmatism, can cost between 40,000 to 1,00,000 INR, depending on the brand and technology used.
EDOF (Extended depth of focus) IOLs and Symfony IOLs are relatively new in the market and are considered premium IOLs, and can cost between 1,00,000 to 1,50,000 INR.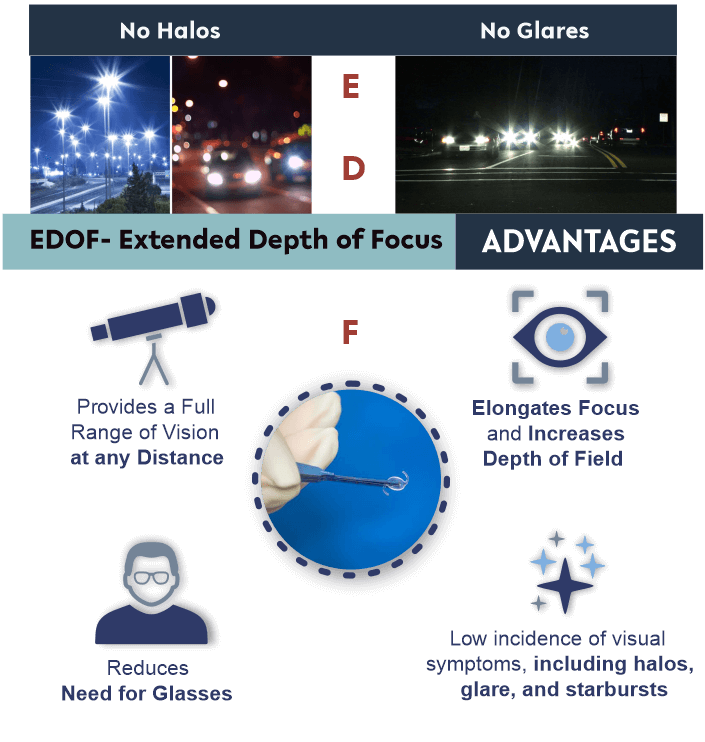 A key factor in Cataract surgery costs is your surgeon and the hospital you choose. More skilled and experienced doctors will cost more, and the standard of hospital services and location will contribute to the cost of cataract surgery. Insurance companies or government schemes may also cover the cost of cataract surgery. To avail of such provisions of cashless payments, you should check with the selected hospital and its patient counselors.
Best cataract IOL lens brands in India with Price
Factors to consider while choosing IOL lens for Cataract Surgery or Motiabind ka operation.
Choosing the right intraocular lens (IOL) is essential for good vision after cataract surgery. With so many choices, looking into the best cataract brands in India that sell high-quality lenses at fair prices is vital. This blog article discusses some of India's best cataract lens brands and how much they cost. This will help you choose between your eye health that you can feel good about.
AcrySof IQ by Alcon
AcrySof IQ cataract lenses by Alcon are known for their advanced technology and good visual results. The aspheric shapes of these lenses reduce spherical aberration and improve brightness and clarity of vision. AcrySof IQ lenses have different kinds, such as mono-focal and bifocal lenses. Depending on the type, the price of an AcrySof IQ lens ranges from INR 15,000 to INR 30,000.
Tecnis by Johnson & Johnson
Tecnis cataract lenses, made by Johnson & Johnson, are known for their high-quality optics and innovative shapes. These glasses use advanced wavefront technology, making seeing in bright and dim light easier. There are different kinds of Tecnis lenses, such as monofocal, toric, and bifocal lenses. Depending on the type, Tecnis glasses in India usually cost between INR 18,000 and INR 35,000 per lens.
Softec HD by Bausch + Lomb
Softec HD glasses by Bausch + Lomb are known for being clear and making patients happy. These glasses have great clarity of vision and sensitivity to contrast, which makes them easier to see. In addition, Softec HD glasses come in mono-focal and toric styles to meet various vision needs. DEPENDING ON THE MODEL, Softec HD lenses usually cost between INR 12,000 and INR 25,000 per lens.
Eyecryl Plus by Biotech Visioncare
Biotech Visioncare makes Eyecryl Plus lenses known for being biocompatible and having good visual performance. These glasses' blue light-blocking and UV protection will keep your eyes even safer. Eyecryl Plus lenses come in mono-focal and toric styles, which are good ways to fix your vision. Depending on the type, Eyecryl Plus lenses usually cost between INR 10,000 and INR 20,000 per lens.
Things to think about when buying cataract lenses
Visual Needs: When choosing a cataract lens, consider what you need to see and how you live. Monofocal lenses make it easy to see clearly at one point, usually far away. If you want to use your glasses less, multifocal or extended depth of focus lenses may be a good choice because they fix your vision for more than one distance. Talk to your ophthalmologist about how you want to see to determine which lens is best for you.
If you have astigmatism, a toric lens may be suggested to fix it. Toric glasses correct astigmatism by making up for how the cornea is shaped unevenly. These lenses can make a big difference in your vision and make it less likely that you'll need glasses or contacts after surgery.
Quality of Vision
Think about the quality of vision that the lens name offers. Advanced technologies like aspheric designs and wavefront technology can improve contrast sensitivity and reduce visual problems like halos and glares, leading to better overall vision.
Surgeon's Advice
Talk to your ophthalmologist or eye surgeon about their recommended lens brands. They know how different lenses work and can give you good advice based on their experience and how your eyes work.
Price and Affordability
Price shouldn't be the only factor you use to choose cataract glasses, but it is essential to consider your budget. The prices listed above are general but can change depending on the lens type, where you live, and where the surgery is done.
Feedback and Reviews from Patients
Read reviews and feedback from patients to understand how satisfied people are with different lens brands and how often they work. Personal events can give you essential information and help you make a good choice.
Cataract surgery is a process that can change a person's life by giving them a clear vision and making their quality of life better. Choosing a cataract lens is significant to how well the surgery goes. Considering things like your vision needs, the need to correct astigmatism, the quality of the optics, the surgeon's suggestion, the cost, and patient feedback will help you choose the best cataract lens brand for your needs. Don't forget to talk to your ophthalmologist or cataract surgeon for help and suggestions that are specifically made for your eye health. Then, if you choose the right lens, you can look forward to seeing better and having a better future